" NCT DREAM TOUR " THE DREAM SHOW "-in JAPAN"
Arena additional performance decision! Ticket advance start from 18:00 today!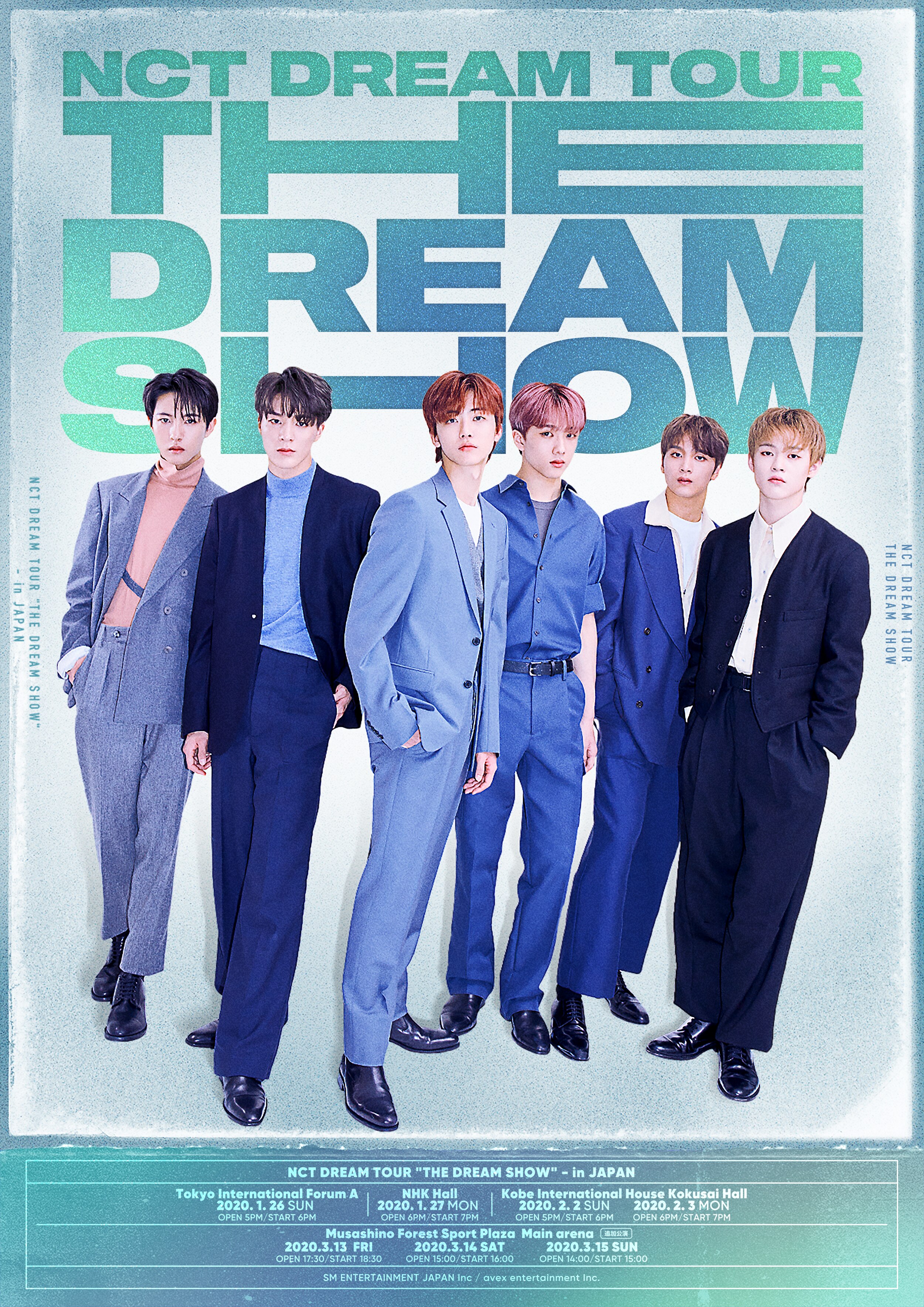 The first concert after NCT DREAM debuted at Tokyo International Forum on January 26, 2020, Japan's only concert " NCT DREAM TOUR " THE DREAM SHOW "-in JAPAN".
Since the number of tickets to be sold has reached the number of tickets sold in advance, SOL D OUT Arena additional performance of this performance decided to be held!  
Musashino Forest Sport Plaza Main Arena 3DAYS is held.
Look forward to their memorable Japan solo concert!    
In addition, the official site advance reception has been decided at the same time as the arena performance addition decision!
It starts today at 18:00 on Friday, December 27!
Please read the notes carefully and apply before the deadline.    
[Additional performance schedule / place]
2020
March 13 (Fri) [Tokyo] Musashino Forest Sport Plaza Main Arena OPEN 17:30 / START 18:30
March 14 (
soil
) [Tokyo] Musashino Forest Sport Plaza Main Arena OPEN 15:00 / START 16:00
March 15 (
Day
) [Tokyo] Musashino Forest Sport Plaza Main Arena OPEN 14:00 / START 15:00  
* Please note that opening / starting time may change.
* The cast members are subject to change without notice. Please note.  
[Ticket Price]
All seats reserved ¥ 11,000 (tax included)  
* Paid for children over 3 years old, no entry for children under 3 years old
* Recording and recording equipment (mobile phone) is prohibited
* Prohibition of resale for profit        
=======================
< Official HP precedence >
■ Reception period: December 27, 2019 (Fri) 18:00-January 6, 2020 (Mon) 23:59
■ Deposit / Payment period: Wednesday, January 15, 2020 12:00-Sunday, January 19, 2020 23:59  
★ Click here to apply ★
http://ry-tickets.jp/nctdream2001_hp2
* Please access after 18:00 on December 27 (Fri).
* Not on a first-come, first-served basis. Please take the necessary time during the period.
=======================  
■ Notes
* The preceding ticket will be a digital ticket (QR code).
On the day, it is necessary to display the ticket (QR code) on your smartphone or tablet terminal.
Admission is not possible even if you show the QR code printed out and the QR code screen shot.
* Tickets (QR code) cannot be displayed and you will not be able to enter even if you bring a feature phone (Galaxy). Please be careful.
* Electronic tickets (QR code) required for admission are available at 13:00 18 days before each performance, and seat numbers are available from [Display electronic ticket] on My Page two hours before the opening time of each performance. You can check.
Ticket distribution to companions can be done using LINE etc. from the page where the QR code is displayed after the electronic ticket display starts.
* Entrance tickets may be distributed from buyers to companions at the time of admission, and you may be required to present one electronic ticket per person. Please make sure that the person who is planning has a terminal that can display electronic tickets before applying.
If you are required to present one electronic ticket at the time of entry, you will be notified by e-mail.
=======================  
[Information on use of wheelchair space and attendant]
If you would like to view in a wheelchair-only space, please make a declaration to the contact below after purchasing a ticket. Those who have contacted us will also be confirmed at the venue on the day and will be guided. Please note that advance declarations are for the preparation of space and are not reservations. Wheelchair-only space at the venue is limited and may not be available upon request. Please note.  
< Contact information >
◆ Arena additional performance: Disk garage 050-5533-0888 (Weekdays 12: 00-18: 00 * Closed on weekends and holidays)  
< please note >
◆ Even if there is a caregiver, you may be able to view it side by side with a wheelchair due to space limitations.
◆ Please note that only one guide is usually provided for those who are inconvenient unless they are together. (However, the attendant must have a ticket.)
◆ Wheelchairs are not available for rent.
◆ If you are in a wheelchair, please speak to the entrance staff. We will guide you to the space where the staff can see.    
* Please note that the following hall performances that have already been announced have reached the planned number of tickets sold in advance, so there are currently no plans to sell them in the future. Please note.  
2020
January 26 (Sun) [Tokyo] Tokyo International Forum Hall A OPEN 17:00 / START 18:00
January 27 (Mon) [Tokyo] NHK Hall OPEN 18:00 / START 19:00
February 2 (Sun) [Hyogo] KOBE KOKUSAI HALL OPEN 17:00 / START 18:00
February 3 (Mon) [Hyogo] KOBE KOKUSAI HALL OPEN 18:00 / START 19:00